Conservation projects I've been involved with
Mobile Wildlife Observatory
Working with both the Iowa Natural Heritage Foundation (INHF) and Hardin County Conservation, I spearheaded the research, design, ordering, budgeting, implementation of focus group ideas, and outfitting a mobile observatory for Hardin County Conservation. The observatory was created to be the perfect set up for photographers, families, or
wildlife enthusiasts who would like to photograph or observe the interesting wildlife in Hardin County. The mobile blind is an 18' cargo trailer outfitted with three concession stand windows, two rows of seating, and covered with a camo decal/wrap. I spent well over 100 hours on this project the Spring of 2019.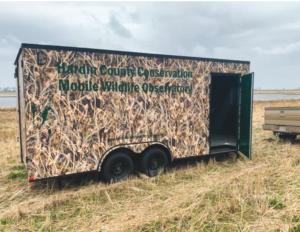 Dallas County Conservation Board Member
The Conservation Board sets policy and oversees the activities of the Dallas County Conservation Department. It owns and manages over twenty five sites totaling over 3000 acres. Land acquisition and the conservation of the natural resources associated with the Raccoon River system in Dallas County are key DCCB priorities.
Nesting Box Plan Creation
I worked with an illustrator and Bruce Ehresman, who recently retired after a 41-year career with the Iowa DNR, to create eight book-quality woodworking plans for the Bird Friendly Iowa program. The program is a statewide project to encourage and recognize communities that undertake practices that improve bird habitat, reduce threats to birds,
and educate citizens about the importance of birds.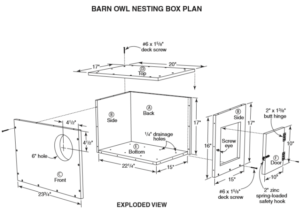 Barn Owl Box Building Project
Collaborating with Drake's Environmental Action League (DEAL) club, I provided a workshop for the students to build 20 barn owl nesting boxes. The boxes will be used on several of INHF properties with existing barns as well as offered to other landowners who have a use for them. It was a great opportunity to teach the students some basic woodworking skills and connect the club to INHF's volunteer program.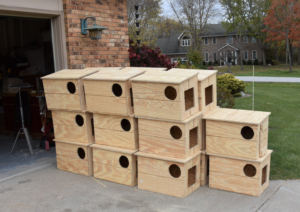 INHF Photographer and Videographer
Working with the Iowa Natural Heritage Foundation, I photograph and video events ranging from native grass and wildflower seed harvest to trail maintenance. The images and videos are used for their website, emails, and print materials.
Rails to Trails Gide
I am currently working with individuals from the INHF to edit, re-layout, and photograph images for their Rails to Trails Guide.
Wildlife Photography Presentation
I have made numerous wildlife photography presentations at the Waukee Public Library, the Iowa Brenton Arboretum, and adult education classes to instruct aspiring wildlife photographers the tricks and techniques for successful wildlife photography.
Bluebird Nesting Box Workshop
Held at the Brenton Arboretum this workshop was designed around learning more about bluebirds and building a nesting box that the participants took home with them at the end of the workshop. In addition, I constructed and donated eight bluebird boxes that were left with the arboretum for use on their property.
Learn more about my volunteerism with the Iowa Natural Heritage Foundation